Wardrobe Designs Ideas And Which One You Should Get For Your Bedroom
Wardrobe Designs Ideas
The most frequently used furniture piece in your bedroom, after the bed, is your wardrobe. It holds your hand-knitted sweaters, high-prized shoes, ripped jeans, classic leather belts, long-sleeve shirts, work pants, shorts, and all the accessories that you cart from your favorite fashion store. Considering its frequent usage and the load it bears, you should always ensure that the design of your wardrobe is befitting your needs and requirements. In case, if you are clueless about what types of wardrobe designs exist, check out this article.
Being in existence for ages, this is the conventional wardrobe design that most Indian homes stick to. In this kind of wardrobe, the shutter or door is attached to the closet with strong hinges and hence it gets the name, hinged door wardrobe.
The biggest advantage of this wardrobe is their shutters can swing wide open outwardly at a 90-degree angle and enable a full view of the closet, which, in turn, makes spotting things easy. It also offers the benefit of hanging some slim accessories like sling bags, ties, scarves, and belts on the back of the shutters when they are installed with hooks.
Depending on your preferences, you can also install pockets, hangers, racks, and a chest of drawers inside this wardrobe to make separate rooms for your various accessories. One disadvantage of this kind of wardrobe is they take up space while swinging outwards and opening into the room. So, these wardrobes may not work well for bedrooms that are tight on square feet.
These wardrobes are the perfect choice for the ones who often change their overall home layout or who shifts the entire home frequently due to work-life or travel life. With free-standing wardrobes, the space for storage does not lie only inside of the wardrobe but also above it. Yes, if you have a high ceiling in your bedroom, these wardrobes can provide you with some extra storage space above the roof and help you make the best use of vertical space in your bedroom.
These wardrobes also offer you an immense amount of flexibility in terms of choosing colors, finishes, and door types. And also, if your bedroom cannot accommodate a large fitted wardrobe, it is good to stick with the simple solution of a free-standing wardrobe.. You already know that there's more than just one type of wardrobe out there, so let's look at the most common types that you can currently come across:
Types of wardrobes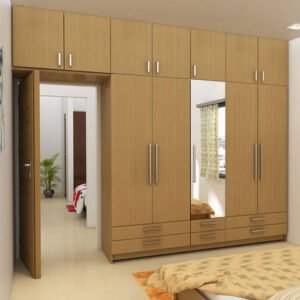 Hinged-door wardrobes have closet doors that are attached to the closet using hinges. The doors can open at 90-degree angles, which makes it super easy to access the contents of the wardrobe. You also have the option of installing racks, chests, or pockets, to create a more versatile storage space for your clothing, underwear, and accessories.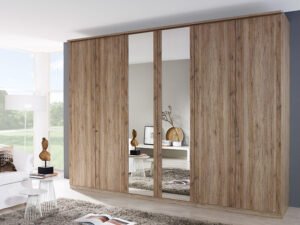 Freestanding wardrobes are the most common variety you can purchase and they are excellent for those who like to change the furniture or layout of their bedroom constantly. A lot of people also like to take advantage of the storage space on top of these wardrobes and use it for stuff like empty luggage bags or boxes. They are available in a lot of different styles and colors and are even made with different materials.
The doors can either open at a 90-degree angle or have a sliding mechanism. In the second case, we're talking about doors that feature metal tracks placed at the top and bottom front edges, allowing the doors to slide horizontally. They are a great solution for small bedrooms, where opening the doors at a 90-degree angle can take up a lot of space.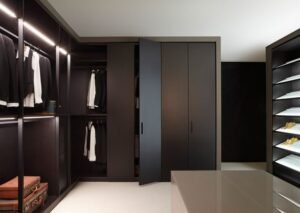 Walk-in wardrobes are also known as closets, and they are considered to be a more luxurious option for those who can afford to have a room just for their clothes. The good news is that you don't need to have a huge walk-in closet, as it can be a small one too if you don't have that much space. The beauty of walk-in wardrobes is that they represent an entirely different room that you can design just how you want to. People have come up with a lot of innovative storage solutions for this type of wardrobe, so your imagination and your budget are the only limits. 
Custom-made wardrobes are designed specifically for your bedroom. They are custom-made because they are measured to fit the space of your choice, can be made from the material you most like, in the color you desire, and can end up looking pretty much like you've pictured them. 
When it comes to wardrobe design ideas, there are several different interior design options to choose from depending on how much space you have as well as the budget. Even with a small budget and a small space, you can bring about a pleasing change to your bedroom with these unique and amazing ideas that we will be discussing here. We will take inspiration from the amazing portfolios by Swiss Interior which is a leading interior design firm in Singapore. Through these ideas, you can design your wardrobes on similar lines to add a wow factor to your interiors.
3 Best Wardrobe Designs Ideas
Change The Color Of The Cupboards
If you have a small budget and cannot spend too much on your wardrobe transformation, then even changing the color of the existing ones will bring about a refreshing touch to the space. Instead of opting for typical colors like brown, white, or other neutral shades, choose some different and exotic colors to add that wow factor to the design. For example, you can choose neon green, orange, yellow, or red to brighten up the space and create a fun environment. Opt for a royal blue or black and gold combination if you want a sober shade. As can be seen in the following image, the selection of a jade green color for the wardrobe creates a regal and elegant atmosphere
Showcase Your Apparel In A Trendy And Stylish Closet
If you have a large space for the cupboard area as well as a good budget, then why not go all the way and create a huge stylish cupboard that can showcase all your apparel, shoes, and bags? As an example, consider the following image where you see a beautifully elegant wardrobe in black color. The inner shelves' shade is a light wood color which is enhanced by modern warm LEDs that light them up.
Some shelves are doorless where you can showcase your most beautiful elements whereas the covered parts can be used to store the other apparel. It is your choice which area you would want to be covered and which one you would like exposed. Also, notice the track lights which illuminate the cupboard to give it a five-star appearance. 
Use Frosted Glass Doors For The Wardrobe
This is another idea if you have a smaller budget for the cupboard transformation. Instead of creating completely new cupboards, you can simply change their doors to give them a new outlook. Instead of changing the color of the cupboard, change its doors to frosted glass or fiberglass. 
In the example below, we can see how sliding frosted glass doors have been used for the closet. Also, they have added a few track lights whose light falls on the closet to give it a beautiful appearance. This way, you can transform your wardrobe's appearance within the minimum budget and space.