Top 6 Tips To Convert Old Kitchen To Modular Kitchen In India
Benefits of a Converting Old Kitchen To Modular Kitchen In India
Whether your kitchen is a true fixer-upper from decades ago or your once-trendy laminate countertop and linoleum flooring fell out of style fast, it may be time to modernize your outdated kitchen. With new design trends showcasing creative uses of colors, modern appliances, and functional design, there are endless ways to bring your kitchen into the present day. Whether you are trying to sell your home, or if you plan on staying in your space for generations to come – these ideas can help you transform your kitchen into the cooking space of your dreams.
The kitchen is the most important part of your home, and you need to make sure it is precisely built. Don't you want your kitchen to be more functional and trendy? Well, C-shaped kitchen design ideas can make that happen. The basic kitchen layouts are U, L, and straight lines, but we will discuss the C layout. It is a unique and convenient design for your kitchen. 
Outdated kitchens were made with materials that were popular decades ago, including metals used for kitchen hardware. With manufacturers releasing innovative materials and design trends following suit, it may be time to rethink your drawer pulls and lighting fixtures. Metals going modern in kitchen design include matte aluminum, stainless steel, brushed gold, and copper – try these materials out in your cabinetry hardware, pendant lighting, and range hood options.
Use darker shades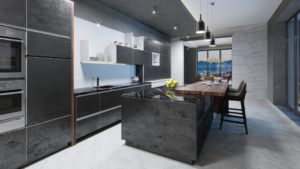 You can use steel and graphite to design your kitchen, which will give a deep color interior to your kitchen. You can also use dark wooden units in contrast to white walls and place wooden chairs opposite the C-shaped kitchen. Deep colors will give an essence of a bold look to your place.
Wooden design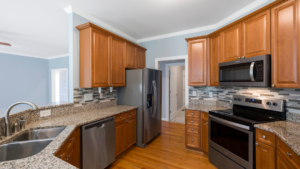 Taking a major material like wood, you can design 3 sites of your counter with cabinets attached to them. You can even have conventional units along one wall for storage. To complement the wood, you can use either white, grey, or pastel colors for the wall and flooring.
Consider removing your upper cabinetry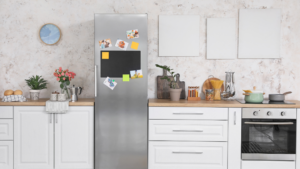 Many outdated kitchens were built to include walls and walls of upper cabinetry to house dishes and cookware. Often, these cabinets consume the eye and make the kitchen feel crowded. If you're looking to open up the space of your kitchen and don't have any room to grow outwards, consider removing the upper cabinets. This frees up the wall, allowing for modern open shelving with a few decorative items and dishware.
Customizable shape as per your space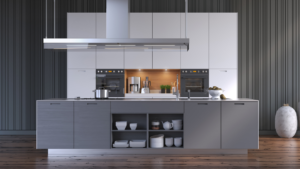 The length of all three sites can vary, and if you make two sites longer, then the C-shaped layout will look a lot like a U-shaped layout. Always give priority to the cooking counter, try to give it enough space, and then use the other two sites for the cabinets and the sink.
Modernize your countertops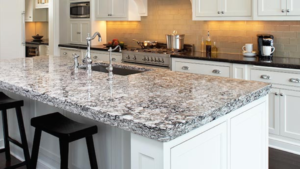 Your countertops also get a large portion of real estate in your kitchen. While outdated kitchens may have the inconvenient tile-and-grout or cheap vinyl for workspace, the variety of countertop surfaces options out there today are endless. From solid surfacing varieties that consist of resin and polymers to natural stone varieties such as marble and granite, there's an option for everyone's style and budget. Over the last few years, designers are becoming increasingly creative and are using heavy-duty structural materials for countertops. So add concrete, brick, and tile, to your list, too.
Flooring is an area of your kitchen that is often forgotten and yet plays a major role in your entire kitchen. If your flooring is keeping you in the past, try switching from your traditional rolled vinyl or linoleum flooring to a more resilient, timeless material — we're talking wood, tile, or stone. These materials will last longer as well as boost the value of your home. In recent years, ceramic tile that mimics the look of hardwood has become popular, as well as travertine and slate.
Install new lighting options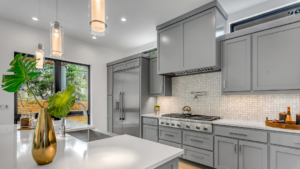 Once you have modernized the major components of your kitchen, don't forget the lighting! While kitchen lighting can sometimes be an afterthought, it is essential for the safety, ambiance, and versatility of your kitchen. If your kitchen solely contains one overhead ambient lighting fixture, look into recessed lighting for a modern illumination source. Consider installing a dimmer switch for versatility while entertaining, cooking, or just relaxing for a midnight snack! Pendant lighting over a kitchen island, under cabinet lighting, to illuminate countertops, and chandeliers are all becoming great options for updated lighting sources.
Benefits of a modular kitchen in India
Space Management
There are many. To begin with, is the optimum space utilization that helps to effective space management. As modular kitchen designs are all about cabinets and wall-hanging storage spaces, it offers ample space and ease of movement.
Ease of Movement
Owing to their compact design modular kitchens offer ease of movement. One can easily move around from sink to chimney to food preparation area without hassle. This arrangement saves time and reduces the chances of any mishaps.
Organized kitchen
An organized kitchen is the dream of every individual. Since the kitchen is the place where people spend a large chunk of time, it needs to be organized with dedicated space for dishes, appliances, jars, and boxes. A Modern Modular Kitchen serves this purpose best.
Enhanced look
Do you remember the traditional old kitchen designs where our grandmothers used to cook day and night? Yes. They lacked a proper design and never appealed to the eyes. Modular kitchen designs enhance the overall look of your kitchen with their everything-inside concept.
Why hire a professional modular kitchen designer 
A million-dollar question indeed. Everyone wants to have a modular kitchen. But people are equally hesitant to hire a professional modular kitchen designer. And believe us. That's not a good idea. You might know your requirements and can take inspiration online but only an expert can come up with a design that is functional, durable, appealing and ensures optimum utilization of space. There is no dearth of professional designers in Delhi-NCR who will ensure value to every penny you will be spending. Besides, industry experts have connections, and they know how to work on a budget.